PARADES FOR TEAMS
Competitive Team Championships
&
Non Competitive Team – Parade for FUN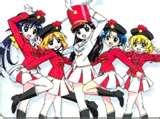 A dream of a lifetime comes true as your group
PARADES DOWN MAIN STREET, U.S.A.® in the Magic Kingdom® Park
NEW TEAMS… BE SURE TO SEND IN YOUR VIDEO AUDITION EARLY along with your parade team roster!
DEADLINELINE: November 15, 2017 Space is limited
FIRST RECEIVED….FIRST RESERVED Don't Wait …Email Now to Reserve a position.
PARADE CRITERIA
Participants must be (10 ) ten years of age and able to march two miles for DAY the NIGHT parade. No exceptions, this is a Disney rule. Birth certificates may be required. Groups not abiding by Disney rules will be removed from parade lineup.

For those members under the age of 10, we now have the PEE WEE Pre-Show at the Awards Extravaganza! For complete information please look at the Solo Parade & Showcase Link for Music and Video.

COMPETITIVE OR NON-COMPETITIVE

Teams may participate in one of two ways Parade Competition Championships by division:

Juvenile Teams (Saturday day)

Junior, Senior, High School or Collegiate Teams. Senior C's (Saturday Night)

OR Non-Competitive , just for FUN ! Juveniles may only perform in Saturday Parade, all others Day or Night
CHOOSE YOUR PARADE (s)
SATURDAY DAY: Juvenile Parade Championships or Teams Non Competitive, just for FUN
Saturday Night: Junior, Senior, High School, & Collegiate & Senior "C's" Parade Championships or Teams Non Competitive, just for FUN, Day or Night.
Please assemble:
Day: TBD Magic Kingdom® Park ~ Splash Mountain Gate
Night: TBD Magic Kingdom® Park ~ Splash Mountain Gate
Please disassemble:
Day: TBD Pirates Gate, Splash Gate, or Sunshine Tree Terrace
Night: TBDPM Pirates Gate, Sunshine Tree Terrace, or Adventurland Bridge
Locations will be designated to the coach prior to the championships.
ROUTINE & REQUIREMENTS
Coach will choreograph their team routine for parade (s) following the below requirements.

· FORWARD MOTION must be maintained at all times. NO BACK STEPS / SIDE STEPS / DRILLS / HESITATIONS or MARCHING IN PLACE.

· There are to be NO TOSSES or RELEASES due to liability of the Disney spectators & guests.
Teams will be disqualified and removed from parade line-up.
· LINE UP please no more than 3 across. Coach will march with sign in front of team between groups to maintain proper spacing.

This is a very fast moving parade so it must be a NO DROP BY ALL. Difficulty is NOT a factor in the judging of the parade competition. You may also choose to use the Solo routines online as an example or use for the parades.

Teams will be ADJUDICATED on PERFORMANCE, APPEARANCE, SHOWMANSHIP, UNISON, MARCHING, POSTURE & POISE, & PROFESSIONALISM. Again, Difficulty is not a factor, it's the PERFORMANCE quality.

We suggest that your routine be a maximum of 32 counts and repeated throughout the entire parade route with 8 counts of marching before repeating routine. You never know where the judges are positioned so choreograph movements to look to the left and right.
COSTUMES / UNIFORMS
Team members attire should all be in the same (costume, shoes, socks, or stockings included)

Banner Carriers, Drummers, Color Guard members should also be in matching uniforms or black dress pants, black top, and closed toe black shoes.

Coaches: Black dress pants, black top, black closed toe shoes or full Team Warm-up to match group colors.

Please no leggings, or tight fitting workout pants or tank tops !
No jeans, tank tops, flip-flops/sandals or inappropriate attire permitted
T Teams will be disqualified and removed from parade line-up.
WHAT SHOULD BE WORN IN THE PARK?

Please come to the Park dressed in costumes and ready to perform.

A warm‑up covering the costume is mandatory and batons should be carried in a case.

No personal items/clothing/cameras, cell phones

can be taken back stage, please leave with parents or group representative not going to the parade staging area.

Any teams identified will be disqualified and removed from the parade lineup. In the event of cold weather, warm-up suits may be worn back stage and stored in the TM truck in Group bag provided by coach.
WE MUST OBEY THE DISNEY RULES & REGULATIONS.
MUSIC
Everyone will be marching to the same music. Please download parade music below.

Teams with musical instruments (drums, cymbals, bells, etc are welcome to march…but cannot play) due to Disney music and announcements throughout the park during the parades. Call for alternative performance opportunity in one of the many Disney parks or venues.
IDEAS / SUGGESTIONS
NIGHT PARADE…lighted batons, glow sticks, glow jewelry, hair accessories, etc. add to your GE (depending on step-off time of night parade).
IMPORTANT
IMPORTANT
Please make sure that every member has an "UNUSED" day on their Disney ticket
for the day of the parade!
WHO SHOULD ASSEMBLE AT PARADE LOCATION
Each coach or director will be given a commemorative sign with your teams name upon arrival. Please assemble your team as quickly as possible in single file behind you and your sign at designated position by TM outside the gate.

The TM staff will then escort all the Teams in single file to the staging area in the back lot. Only those with parade credentials formulated from the Parade Roster submitted by the coach will be permitted. Please make sure your group reports on time!

No performers or coach will be permitted through the gate once the last Twirl Mania staff person has reported to the casting area. If possible, the Disney cast member will contact a Twirl Mania staff member to see if there is still room for positioning and time to rehearse for the parade.
Only the participants and director/coach who have received their parade credentials should report to parade area as listed on team roster.

Parents/Guardian should make plans to drop athletes off to their coach at a location prior to the coach taking them to the parade entrance gate and then proceed to viewing area.

Reminder:

Participants must be

( 9 ) nine years

of age

DAY parade and

( 10 ) years of age

for the NIGHT parade.
DISASSEMBLING PROCEDURE
Upon conclusion of the parade, all coaches will line-up their team single file once again behind them and their sign. All teams will be escorted to the designated drop off gate immediately after the parade. Each coach will remain with their team members until everyone is picked up by their parent/guardian.
EQUIPMENT TRANSPORT TO PARADES
WHERE?
The TM Van will be located at the Front Parking Lot of ESPN Wide World of Sports® Complex.
WHAT?
Banners, poles, tall flags, flag batons, hoops, poms (i.e. equipment to be used in the parade) along with a Coach/Director tote bag containing light sticks, first aid, safety pins, halos, small items of possible need can be transported in the TM truck. They will go directly from the parking drop off area of ESPN Wide World of Sports Complex to the back stage area so you do not have to carry them through the park.
· All equipment placed on the truck needs to be labeled with Team / Coach Information along with the cell phone of the coach.

· After the parade, all equipment should be placed back on the truck for transport back to the parking drop off circle of the ESPN Wide World of Sports Complex.
· There are also rental lockers at the front gate of the parks for personal belongings for your use before and after the parade.
WHEN?
DROP OFF (Tentative
)
Saturday: 11:00am - 12:00pm (Saturday Day Parade)
Saturday: 5:00pm - 5:30pm (Saturday Night Parade)
PICK UP
(Tentative
)
Saturday: 5:00pm - 5:30pm (Saturday Day Parade)
Sunday: 7:00am - 8:00am (Saturday Night Parade)
(times subject to change pending parade times)
Unclaimed equipment will be left at the front door of the ESPN Wide World of Sports Complex at noon; neither Twirl Mania nor Disney will be held responsible for the equipment.
NOTES TO COACH / DIRECTOR
· All coaches / directors ...please supply a cell phone number on their registration form in case there are any changes in parade schedules, times or any other important information.

· Only Coach / Director can take a cell phone into the casting area. It may be carried in your pocket in the off position and to be used in emergency situations only. To operate, it must first be cleared by the Disney staff. Failure to comply will result in confiscating said item and returning it the next day at competition.

· No cameras are permitted back stage in the casting / backstage area.
Coaches, Parents…PLEASE note that the AGE LIMIT and DRESS CODE will be
strictly enforced
!